Gekko Plus Contest Details
6 Nov 2018
The Gekko strategy contest we are hosting is about to start! Submissions are now opened: you can create a Gekko Plus account and submit your own Gekko strategy for the contest. in a nutshell: Everyone can submit their own Gekko strategies and Gekko Plus will run all of them for 25 days straight publicly. The deadline for submitting your strategy is the 12th of November.
The creator of the best performing strategy will receive 0.1 BTC. (And 0.01 BTC goes to the second best strategy). Right now that's more than $700 in price money!
If you are not technical feel free to stick around: Every Gekko Plus user will be able to run all strategies in the contest after it's over (if agreed by the creator).
Here is a video where I explain the contest & market place: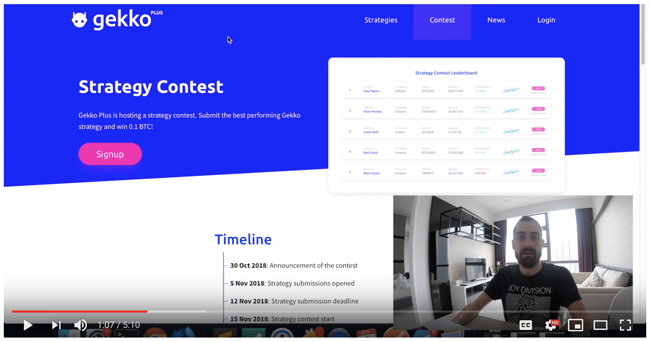 Alternatively you can sign up and read all details on the contest page:

https://app.gekkoplus.com/contest
Note: We are improving our registration email system, as of right now the registration email might get flagged as spam. Make sure to check your spam box!
May the best strategy win!